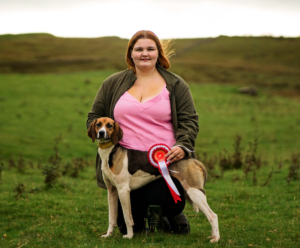 After receiving hundreds of applications to our recent call out for new sponsors, we have finally selected two fantastic recipients, who will each receive a sponsorship package from Alpha.
Border Trail Hounds are one of our worthy recipients of a sponsorship and, over the coming months, we would like to introduce you to their beautiful dogs, all they do and follow their success.
Run by Annabelle Connelly, Border Trail Hounds is made up of the very stunning Jas, lily, Moss & Rue, Henry, Holly and Tim. These working/racing Trailhounds will be competing over the coming months, with a fixture list due imminently.
Hound Trailing is an old Cumbrian sport that takes place up and down the local countryside most weekends from March through to October. The hounds travel in the region of 8 miles across fields & fells, following a scent of aniseed, which has been laid down for them to follow as a trail.
Completing the course in less than 30 minutes, the hounds race towards their owners, running in different grades during the season and collecting points throughout for the coveted title of champion.
Here, Annabelle provides her top tips for caring for hounds after they have raced….
'After strenuous activity dogs should be thoroughly checked over to make sure they have no injuries or wounds that need vet's assistance. A post exercise massage will help push toxins out if the muscle such as lactic build up which contributes to DOMS (delayed onset muscle soreness), which isn't something you want when you exercise or work your dog often as this will end up inhibiting their performance. 
The morning after a race is crucial, that's when you are most likely to see any visible lameness, limping, short strides or head nodding. 
If your dog is unfortunate enough to gain an injury, the next thing to do is to have a vet or licenced animal physiotherapist check them over to pinpoint exactly where the lameness is coming from. Once you know where is sore, it's time to treat the lameness and help your dog recover as quickly and as safely as possible. 
My favourite things to use to treat a dog for a muscle injury are ultrasound treatment and massages. Massaging the sore muscle twice a day with a muscle liniment or plain warm water will ease inflammation in the muscle and improve blood flow to the injury, blood needs to be flowing through properly for it to carry oxygen and the right nutrients to the injury to help it recover. 
I also like to feed my dogs turmeric, banana and eggs as all three foods have great properties to help a dog recover from injury. Turmeric is an anti-inflammatory, eggs have all the amino acids dogs need to help recover faster and bananas are great to feed after activity due to their ability to replace glycogen lost when the dog is performing.'
Annabelle Connelly, Border Trail Hounds
Having worried about one her own hounds, Moss, becoming lame recently, we're very happy to report that after a visit to a licensed physio, all is well, and Moss is back fighting fit and racing.
We are also pleased to say Rue won the Produce trial yesterday (Sunday 20th September). She ran her heart out to win by a length on the finishing line – what a fantastic start to the season! Moss was 4th as he unfortunately made a couple of mistakes, which cost him dearly, but since he was only at the physio a few days ago, we think this is still a fantastic result.
We very much look forward to supporting Border Hound Trails in their coming season. To find out more about them and follow their racing season, visit their Instagram page.