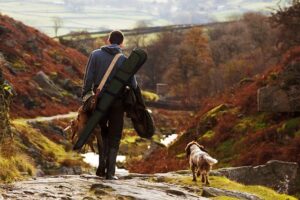 Summer is coming to an end, the first leaves of autumn are falling, and there's a decided nip in the air. And what does this spell? The shooting season is nigh!
After a beautiful summer holiday, your dog will probably be looking a little wider around the middle, and maybe a little out of shape. You too may be feeling the same?! With this in mind – now is the perfect time to begin preparations for a busy season in the field.
Everything from feeding to training is about to ramp up – and it's crucial to manage the transition back into the field with care. In this week's blog, we talk nutrition and fitness preparation to get your dog in tip-top shape for work.
The DIY health check
Before embarking on your epic pre-season training plan; it's good to give your dog a quick health check. Luckily, this is very straightforward and can be done for the comfort of your home. However, If your dog is displaying any signs of discomfort, infection or illness – a trip to the vet is recommended. The following steps will highlight any potential problems;
Covering the entire body, thoroughly check your dog for any bumpy bits, and don't forget the tip of his tail – after a hard season before, this area is prone to injury.
Extend and flex all joints. You should be feeling for any resistance to manipulation and signs of discomfort.
Check the mouth for redness in the gums, loose teeth over zealous tartar build-up; this can all lead to discomfort for your dog.
Check your dog's ears for redness, irritation and excess wax.
Examine your pet's eyes for clouding or discharge.
Inspect all four paws looking out for discolouration or strange smells. Examine the length of the nails and study between the toes.
Let's get moving!
After a few months of relaxing and restoring – your dog is ready to get back into training; and being a working breed, he'll be turbocharged to get back into the action! Just a few extra pounds can increase the pressure on your dogs' joints, increasing the risk of an injury, and after a sedentary period, your dog is likely to have put on a few!
Start your training light with regular walks, and increase the intensity gradually. Conditioning your dog for long days in the field, including some short sprints, is crucial. And, focusing on the duration and frequency of exercise will help no end. Activities like running beside you while you ride a bike, practising long and short retrieves (with a variety of dummy weights) and obedience training will all help build stamina and sharpen your dog's mental response skills.
Nutrition for optimum health and endurance
As the energy levels and activity ramp up, it's essential to feed accordingly. In the same way, you are building up the workout intensity – introduce new foods slowly. A sudden change in diet could lead to stomach upsets – just as jumping straight into intense physical training could result in injury. We suggest mixing the new food in with the current meal for a week to allow the dog's digestive system to adjust.
As your dog's energy levels grow, heralding the start of the season, gradually increase the volume fed, splitting it into two or three meals per day. It would be best if you were looking for a dog food that offers high levels of protein and fat to support energy levels and muscle repair. At Alpha, we provide a range of high performance feeds, including Alpha Sporting Puppy (29% protein), Alpha High Performance (32%protein), and Alpha Grain-free (25% protein).
*No dietary changes will be required if your dog enjoyed a busy and active close season. Vet's and scientists agree that it's best (if possible) to keep the dog's nutritional profile consistent. This aids and maintains good metabolism.