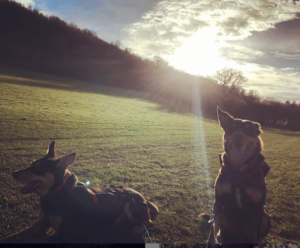 Alpha Feeds would like to introduce our new CaniCross trail blazers Rocky and Rubble! These two gorgeous Kelpies (Australian sheep dogs) are owned by Leigh Collins. The trio are currently completing #100milesinfebruary to keep active and maintain their CaniCross fitness levels during lockdown.
Leigh has always been a keen runner, so it was only natural that when she became a dog owner, she discovered and fell in love with CaniCross. She has been CaniCross running with Rocky and Rubble for 3 years now, and both she and the boys love getting out; exploring new trails and meeting up with new people.
CaniCross has enabled Leigh to build a great relationship with her dogs and it has really helped them to create a team bond.
Being high energy dogs, CaniCross is not only great for Kelpies physically but also mentally. The sport is a great way for you and your dog (of any breed) to get fit together and make the most of the great outdoors. After a great time exploring trails, you can enjoy some hard-earned rest and snuggle time with your dog(s), providing you with the best of both worlds. What's not to love about that?
Rocky and Rubble have taken part in a few organised CaniCross races and the boys have pulled Leigh in to podium places in all events. There are in fact lots of organised CaniCross races all over the U.K, where you can put your training in to action. There are also lots of different types of events from fun runs, night runs to two-day events; all open to all abilities, breeds and sometimes multiple dogs.
If you aren't competitive, CaniCross is also a great way to get out, socialise and meet new people. Check out your local area for CaniCross groups, many groups will have equipment you can try to see if you and your dog enjoy the sport. Facebook is a good place to search for these groups.
Here are Leigh's top tips for a successful and enjoyable CaniCross experience…
Remember to use a well fitted CaniCross harness for your dog. Never run a dog on a neck collar.
Your dog should be over 12 months old to partake in CaniCross.
You should build your dog(s) fitness and miles up slowly.
Use simple commands to help work together as a team. Left, right, steady and go are all good examples of this..
The human must always be behind the dog and never in-front dragging the dog.
Fuelled by Alpha Feeds
Despite how well your dogs are bred and trained, they cannot give the very best results if their diet does not provide their bodies with the nutrients they require both during and after each race.
This year Rocky and Rubble are really focusing on endurance, as well as speed, and are excited to put their training to the test.
The pair enjoy Alpha High Performance, the ultimate in performance dog feed. Our nutritionally formulated feed ensures excellent body development, optimum muscle and bone advancement and boundless energy in order to exceed the rigours of racing.
Alpha High Performance has been designed to meet the requirements of dogs in training, brood bitches and pups.
So, if you are considering CaniCross racing this year be sure to fuel your dog from the inside with a feed that will give them what they need to succeed.
Why not get out there with your four-legged best friend and give it a go? We are excited to see what adventures you and the wonderful Rocky and Rubble get up to this year.