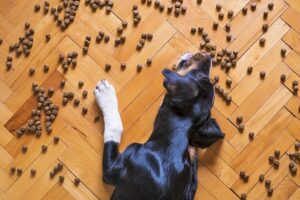 Image source: Gentle Dog Trainers
It's important to eat a healthy, balanced diet for humans and canines alike. We both need to watch our calorie intake, ensure we are eating enough of the right fats, take our vitamins and for those who exercise regularly, get enough protein in our diet too, so we can keep healthy and active for longer.
Protein packs a punch.
Proteins are essential macro-nutrients that act as building blocks in living tissue such as muscles and organs, producing energy when digested. Proteins also have functional roles (e.g. enzymes, hormones and antibodies) in vital processes in the body and therefore need to be consistently replaced. This can be accomplished by regularly consuming foods that contain protein.
All dogs, whether working or not, need protein as part of their diet. Highly active dogs use protein's essential amino acids. Functions of these amino acids focus on muscle condition, tissue repair, and hormone synthesis.
Recommended Protein levels
The minimum recommended Protein Levels for Dogs are outlined by the PFMA – Pet Food Manufacturing Association, as below:
Unit: Grams per 100gr dry matter

A moderately active dog only needs about 21 to 26 percent crude protein. Working dogs however, need higher levels to maintain their health and energy whilst active.
Protein for working dogs
Working dogs need a good quality, sustainable diet to keep up their strength for the long working days ahead of them. By providing calories, protein enables them to keep up their energy to stay active, whilst also building strength.
Protein provides your dog with:
Stronger muscles
Greater bone and body mass
Improves nerve function
Aids the creation of cells
Can help in healing your dog's wounds.
Your dog will even benefit from having a shinier coat and healthier skin due to the higher level of protein.
All dogs need protein in their diet but choosing the right food for your working dog is essential even from a young age, as this will help to build their strength and energy through to adulthood.
At Alpha, we offer a range of different foods for both active puppies and adult dogs, which are nutritionally balanced and formulated for health and vitality. Our foods range from 19% to 32% protein, helping you to choose the right food for your dog depending on their purpose and high performance.
Choose Alpha, The food of champions
Here at Alpha, we have a highly dedicated and skilled team of people who care about the quality of the products they make and the service that they provide. Alpha products are now more in demand than ever, with scientifically formulated recipes to suit all breeds.
Your animal's health and vitality is our passion and we are committed to providing exceptional service and outstanding value.
Nutritional excellence is at the heart of everything we do and we expect your pet to thrive on our food, as much as we thrive on making it.
From our range, Alpha Worker Maintenance has the lowest percentage of protein, at 19%, as it's a "maintenance" diet, so it's ideal for dogs in off season, or for those who are retired.
For those busy working dogs however, Alpha High Performance has 32% protein, to ensure they can maintain their activity levels all day long. Most of our Dog food averages at 25% protein, offering your dog a quality feed that will keep them working for longer– please visit our website to view our full range.