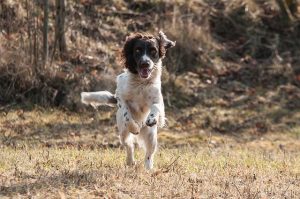 Active dogs like working, sporting, and hunting dogs, burn a serious amount of energy – up to four times more than that of your average dog. To counteract and support this extreme athleticism, they require a suitable high-energy feed.
Joint health is also crucial to your dog's longevity, be it farming, policing, sporting and so on. Your active dog is invaluable to your team, and a carefully thought out diet will mean a long, happy, healthy and action-packed life.
When deciding on your dog's diet, ensure it covers the following;
The food should be doggy-delicious.
The feed should provide your dog with enough energy to work hard, play hard and thrive.
Your dog's food should support a healthy digestive system, help build lean muscle and aid in muscle recovery after strenuous athletic activity.
If your dog is extremely active, his feed may need additional nutrients to support joint health and mobility.
Your working dog is an athlete; his food will need fortifying with essential vitamins and minerals.
When to opt for high energy food
If your working or sporting dog is exceptionally active, chances are he'll need a high-energy feed to match his energy outputs. Fat is your dog's primary source of energy. Specialised high energy foods – alongside additional minerals, vitamins and highly digestible ingredients – possess a high fat content to meet this requirement.
Keeping weight on your sports dog
Highly active dogs are prone to weight loss. The correct feed will nourish your dog, help maintain a healthy weight, and provide all the energy he needs to perform. However, if your dog seems to be losing weight without cause, speak directly to your vet; they may need to conduct a complete physical exam to rule out any underlying health issues.
Joint health
For working and highly active dogs, joint ailments can be a real problem. Dogs that were once performing athletic movements and covering vast distances can begin to feel pain and discomfort – leading to slowing down and disengaging from the sports they once loved. When pain is obvious, and you see a decline in your dog, veterinary advice is required ASAP.