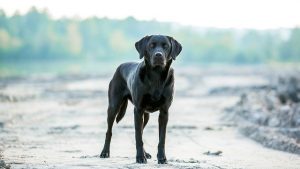 A well-trained gundog in action, slinking elegantly to retrieve, and stopping, statue-still – at the pip of a whistle, is a marvel to observe, and something a working gundog owner endeavours to master. The good news is, this unwavering connection between trainer and dog is far easier to achieve than you may think.
The purpose of training
Directional control enables the handler to present his dog with the information she needs to perform efficiently. Sometimes your input isn't necessary, and your dog can complete the task solo. However, at other times your assistance and guidance help things run more smoothly.
Starting from scratch
Using a combination of hand signals and whistles; the handler communicates to his gundog from a distance. For this partnership to work, his dog must be willing to pay undivided attention and to respond to his cues swiftly.
Directional training
There are two main components to directional training; the brakes, and the steering. The 'brakes', AKA stopping when necessary, can be taught with a 'stop whistle'.
Once you and your dog have forged a strong connection and mastered the stop whistle, it's time to move onto the 'steering' part of directional training. A paddock or large park works well for practice purposes.
Begin with left and right. What you ultimately want to achieve is your dog running in a straight line, at your command.
Keeping your dog stationary and with eyes fixed on you, throw one 'dummy', or ball to the left – not too far away in the beginning.
Using your arms; signal to the ball on your left. Use exaggerated motion as you'll be working at far greater distances in the future, and your dog will need to identify your signal. When your dog returns the dummy, reward her with a pat, or a small treat.
Bring her quickly back to sitting and focused on you. Next, signal – with exaggerated motion – to the right and when your dog returns the dummy, reward her once again. Repeat.
When you've mastered left and right, try two dummies at once. You want to avoid your dog second-guessing you – so exercising the unwavering focus is essential. With both dummies set out – left and right – make your commands
Continue this training with the addition of the 'back' command (sending her directly away from you). For this command, you will raise your arm high, up and away from you.
In a nutshell
This communication and understanding is teamwork in action and makes working at great distances, and in unfavourable conditions possible. Once mastered, you and your dog will be the envy of many!