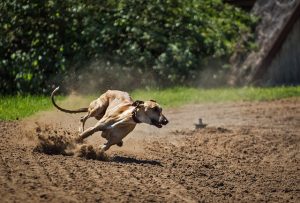 Greyhounds are lean, powerful dogs, with a keen hunting eye and a knack for sprinting. Once owned exclusively by royalty, this magnificent breed dates back to Egyptian times.
Not only are they regal in looks and gentle in character, but they're also relatively low maintenance. Contrary to popular belief, the breed is more couch potato than a sprinter – needing only one hour of vigorous exercise a day.
Fact file:
Lifespan – 10 – 14 years
Height – Male: 71–76 cm, Female: 68–71 cm
Weight – Male: 27–40 kg, Female: 26–34 kg
Temperament – Affectionate, Intelligent, Athletic, Quiet, Even Tempered, Gentle
Movement
Greyhounds, while mostly docile, are very energetic in short bursts. Their action is graceful and elegant, moving smoothly and sleekly with the minimum of effort, and able to turn quickly while in full flight, without losing pace or their balance. They are renowned for incredible speed, used mostly at track races.
Exercise
The Greyhound will live a happy and fulfilled life with one significant workout per day. This session will be full speed, high octane and interactive – this breed loves to play. Many owners take their canine friends 'lure coursing' which is an excellent way for them to let off steam whilst also enjoying something they were born to do.
Temperament
Greyhounds usually get on well with other dogs, but instinctually chase cats and other small fluffy animals – and being so lightning-fast, they may catch them, much to the distress of your neighbour.
While this breed may act aloof, and a little nervous around strangers – they're incredibly loyal and affectionate with their family.
Prey drive
Deeply embedded in the psyche of a Greyhound, chasing down prey is such a powerful instinct, that your neighbour's cat may be in real peril, should they meet. For this reason, a well-fenced garden is necessary – as greyhounds can jump up to six feet.
Separation anxiety
Highly intelligent and emotional, Greyhounds form strong family bonds and don't like being left alone for long – they're the perfect dog for someone who works from home. Greyhounds in isolation are vulnerable to separation anxiety, leading to destructive behaviour. Unfortunately for your sofa, ripping things apart is their way of relieving any stress.
For information on our range of working dog food, including our High Performance and Racer feeds, speak to your local stockist, or get in touch with us through our website.