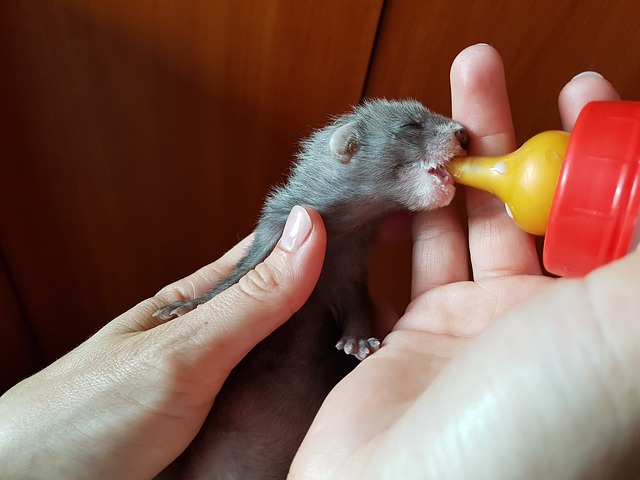 We are now entering peak ferret breeding season. If you are considering breeding your ferret, you must ensure you are prepared to do so responsibly. This is a big commitment, financially and in terms of time spent nurturing and training your young ferret.
If you own working ferrets, you may be considering line breeding to maintain the quality ferret that you currently work with. With ferrets becoming increasingly popular pets, some argue that their natural ability for rabbiting is on the decline, so line breeding for working purposes could maintain the fearless ferret with the strong prey-drive that proves so effective.
Maybe you keep show ferrets, in which case you want to mate the animals that have the best shape, best proportion and in general have the best qualities that a judge is looking for. A friendly nature is also worth consideration as they will need to be handled by judges. If you're new to breeding, you could decide to simply use two ferrets who have done well in previous shows. Line breeding does come into play here so be sure to check the quality of grandparents too.
Be Prepared
Before allowing your Jill to become pregnant you must do your research to ensure that you are fully prepared for what ferret breeding entails. You should only breed ferrets if you are experienced and confident with handling and nurturing ferrets – only an experienced ferret owner will fully understand the commitment required for successful breeding.
Preparation also means understanding that any complications during labour could mean losing your Jill, resulting in the need for you to hand-rear her kits. If your Jill is a prize winner or an amazing working ferret, you must consider the balance of producing more ferrets to potentially losing your current one.
It is also advisable to be sure you can offer a good home for all kits born. Although the average litter size is eight, Jill's can give birth to up to 14 kits. Do you have ample room in the event of a larger kit size? Do you have homes lined up for these kits if you cannot keep all of them once they have been reared?
Responsible breeding
Some people choose to breed ferrets for a particular colour. Although fundamentally there is nothing wrong with this if done responsibly, inbreeding to ensure the perfect colour can be irresponsible and lead to genetic defects. If a ferret is severely inbred it will die young after living an unhappy life.
Generally speaking, two ferrets of the same colour will more than likely produce kits of the same colour also. Take caution with breeding silver ferrets however, as although many are successful, silver to silver mating can also produce genetically deformed kits.
Breeding practice
OK, so you've done your research and you've committed to breeding your ferret.
The first thing you must do it wait until the Jill's vulva is completely swollen before you allow her to mate. If she isn't ready when the Hob is introduced, it could lead to a fight and one or both being harmed. It can be hard to tell whether your Jill is indeed fighting off the Hob but if you suspect she is, remove her immediately to prevent any harm being caused to the ferrets.
To ensure mating is successful, ensure no other ferrets are present and only allow the act to happen in the Hob's hutch.
Mating ferrets is not for the faint hearted. It can be a rough process; the Jill will usually squeal and get dragged by her neck around the hutch before the Hob takes her into his nestbox. This is unbelievably quite normal, so try not to panic.
Mating can be a lengthy process so be sure to feed both ferrets prior to introducing them as you will need to leave them alone for roughly 24 hours.
Once you've taken the Jill out, her vulva will dry and shrink to normal size within 1-2 weeks. This is a good indication that mating has been successful.
Feeding your ferret
Once weaned, ferrets will require adult nourishment. When young, their teeth may not be sharp enough to manage food initially so you will need to soak food in warm water for 5 – 10 minutes to soften it.
Because kits have a very short intestinal system and a rapid intestinal transit time, meaning it takes some time for the food to pass through the stomach and into the intestines, kits need reasonably high levels of fat and protein. When you are looking for the right food product to buy, look at the label and see to it that this contains roughly 35% protein and 20% of fat. These levels should be maintained into adult life.
Ferrets also need a balance of meat and poultry products as this will decrease the risk of urinary tract obstructions later on in life. You must ensure that water is always available too.
Alpha Ferret Feast
Alpha Ferret Feast is the ideal way of feeding your ferrets throughout all their life stages. Our premium food is nutritionally formulated to provide a complete and balanced diet to keep your ferrets in optimum condition.
Our Ferret Feast contains chicken & fish, which are easily digestible sources of protein. It is easy to feed, removes the odour of more traditional feeding regimes and contains all the necessary vitamins and minerals that your ferrets need in order to remain in the very best of health.
Overview:
High quality chicken & fish proteins
Fish meal and linseed for essential omega 3 oils – Aids healthy skin and coat condition
Crunchy extruded nugget to help clean teeth
Nutritionally formulated for health and vitality
Easy to digest and highly palatable
With Taurine added
36% Protein
Wholesome ingredients – No added artificial colours or flavours
Alpha Ferret Feast should be fed ad lib to ferrets as they have a very fast metabolism.

If a ferret becomes overweight, either increase its activity levels or reduce the amount of food to 5% of the ferret's body weight. If you have provided moistened food for a kit,
remove any uneaten moistened food after a few hours and replace it with fresh.


Gradually introduce kits to dry food after 5-6 weeks.
To find your nearest stockist of Alpha Ferret Feast visit https://www.alphafeeds.com/online-stockist/.