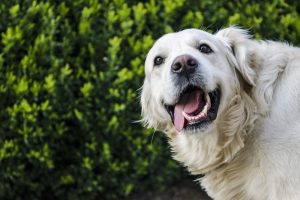 Golden Retrievers are a gundog breed that were originally trained to find live game and retrieve any game that had been shot and wounded.
They first came from black Wavy Coated Retrievers crossed with the Tweed Water Spaniel, which gave them their distinctive yellow coat. In 1913 the Golden Retriever Club was formally recognised by the Kennel Club.
The fact that these dogs are incredibly easy to train, as well as calm natured, makes them ideal working dogs to work with people and other dogs. This includes roles such as guide dogs, tracking and explosives detection.
Fact file:
Lifespan – 10+ years
Height – Female: 51–56 cm, Male: 56–61 cm
Weight – Female: 25–32 kg, Male: 30–34 kg
Popularity – They are the 2nd most popular dog in the UK
Nickname – Goldies
Temperament:
Golden Retrievers are very hardworking, playful and loving dogs that are incredibly intelligent and easy to train. They are a popular family dog as well as a working dog, because of their gentle nature and are great with children, given early socialising.
They are described as very kind, as well as fun-loving and with a streak of mischief too. They seem to tick every box which may well be the reason they are the second most popular dog in the UK.
Exercise:
Golden Retrievers love frequent exercise and being outdoors. Their high energy levels, ability to track and love of water make them ideal dogs for hunting and exploring.
Grooming:
They have a very thick, medium length coat that requires grooming 2 or 3 times a week to keep it in tip-top condition. Their thick coats help to keep them warm all year round.
Working Roles:
Their ability to sniff out and retrieve downed game over both land and water gained them huge popularity as gundogs, but they also make excellent sporting dogs, assistance dogs, working with the police and military.
For any information on our range of working dog food and your local stockists, contact us or get in touch with us on 0844 8002234 for more information.