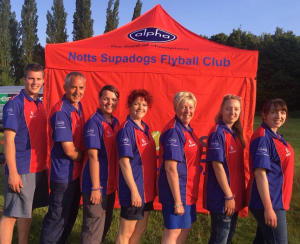 Is your dog full of energy, great with other dogs and do they love to engage in physical activity?
If you enjoy team sports, meeting other people and travelling with friends, then a sport like Flyball might be ideal for both of you.
What is Flyball?
Flyball is a race where two different teams of dogs run side by side over a 51-foot course. Each team is made up of 4 dogs and each dog must run over jumps, trigger a Flyball box (which releases a ball), retrieve the ball and then return over the jumps.
The next dog is then released in a relay fashion until all dogs have crossed the finish line. Fastest wins! 
What qualities does a handler need to have?
Be highly motivated
Make everything positive
Have a good recall skill
Have a good bond with their dog
Can any breeds make up a Flyball team?
Yes, any breeds can make up a team and they can all run together!
What is the age restriction?
All dogs must be over 12 months to compete in a team.
How many times a week should they train?
Training is ideally done once or twice a week and competitions/open tournaments take place all year round.
What kind of tournaments are there?
There are Open Tournaments, Multibreed Tournaments, and Intermediate and Starter racing. The first two are BFA sanctioned tournaments which run in accordance with the BFA rules, and all dogs and handlers must be registered with the BFA to enter the ring.
Intermediate and Starter racing is more suited for younger dogs because in this race, dogs don't have to trigger the box and boxloaders can give the dogs plenty of encouragement. Younger dogs benefit from lower jumps irrespective of their own height here too.
Top tips:
A lot of practice is key for this sport! As a working dog, your dog shouldn't be easily distracted but it's important to ensure your dog always wants to come back to you. Using their favourite treat or toy can help with this and teach them to zone everything out.
Milestone Awards:
BFA points are also awarded to each dog racing if all four dogs complete the leg without error. Milestone Awards are awarded to dogs throughout their Flyball career!
If Flyball is a sport you think you'd like to get involved with, search to see where your nearest team play.
Notts Supadogs
Alpha is proud to be the current sponsor of Notts Supadogs Flyball Club, who are a great team, achieving many successes and having lots of fun whilst doing so! Find out more about them on their Facebook page.