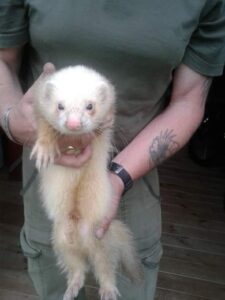 Alpha Feeds has recently been on the hunt for ferrets to sponsor. Alpha Ferret Feast is a consistently popular product of ours, so we know we have many loyal customers of the ferreting kind out there, and the response has been tremendous.
Here, we would like to introduce Idris and welcome him and his ferrets into #PartoftheAlphaPack.
Idris' background
Idris has been ferreting since his early teens, a skill he learnt from his Grandad. He still has some of the original nets that he learnt with, which are some 40 years old. In those days they were made of hemp and they took a long time to dry out.
Things have moved on and he now uses spun polyester, which dries quicker, doesn't tangle, doesn't rot and is generally easier to see as it is brightly coloured.  He has taught himself to make his own nets; sitting by the log burner sewing them is warmer than the fishermen are on the quayside!
Idris has had many ferrets over the years, some great workers and others just not cut out for the job!  He has also raised one litter of kits, which was an accident. It was however amazing to watch them grow and, as if things were meant to be, Idris has kept two from the litter; Merlin and Storm, who turned out to be great workers.
Ferreting; the essentials
It is essential to have a good working dog to work alongside your ferrets. Idris sadly lost his lurcher Taff, who was amazing at marking the holes where there were rabbits, but not before he taught Kai, a Parsons Jack Russell to do the same; saving him time not having to net up empty holes.
Idris' eldest son has a similar passion for ferreting and has just got a beautiful lurcher puppy called Skye, which they can't wait to train for next season. It's great that the tradition of ferreting appears to be strong within the family and will continue through the younger generations.
Although Idris has ferret finders, he has to do his fair share of digging. A flask, spade and patience are essential attributes needed for ferreting!
He always eats what is caught and has invested in a mincer, with real sausage skins from his local butcher, to make some amazingly tasty sausages and pies!
5 top tips for successful ferreting
Now you know a bit about Idris, here are his top tip for ferreting…
Look after your ferret's health, provide a comfortable living environment including feeding your ferret a good quality food (such as Alpha Ferret Feast).
Always get the Landowners permission to ferret, including permission to take a dog or dogs along with you.
Survey the land before ferreting to ensure the safety of your ferrets, any dog(s) you have with you, any livestock in the area and of course yourself.
Leave the land as you find it, no holes in hedges, close any gates and backfill in holes.
Using collars and locators not only saves time but ensures you do not lose your ferret.
Idris has fed his ferrets (and unexpected kits) Alpha Ferret Feast since 2003. Have you tried it? Our premium ferret food is nutritionally formulated as a complete and balanced diet, to keep your ferrets' optimum condition. Find out more…