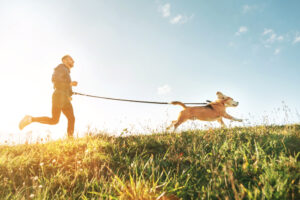 With gyms still closed and unlikely to open in the near future, it is increasingly common to see people of all ages walking, jogging and running outside, trying to incorporate a little freedom and fresh air within their daily exercise routine.
Of course, it's not just humans who need to get out for a bit of exercise. Our four-legged friends need to stretch their legs too. Whether you're already an established 10k plus runner or you are starting your couch to 5k journey, why not team up with your dog and enjoy exercising together?
So, what is CaniCross? 
CaniCross is essentially cross country running with your dog. The great thing about this sport is that all abilities of humans and most breeds of dogs can participate.​
Originally a form of training, utilised by mushers with their lead sled dogs, the activity has now developed into both a recreational and competitive sport.
Canicross is dog-powered – they are harnessed and attached to their human, who is the driver, directing the dog from behind with voice commands. Canicross is not only a great form of exercise but also stimulates your dog's brain and senses too.
What breeds are suitable?
Working breeds are a more popular choice for CaniCross but as long as your dog is fit, healthy and the right age (at least between 12-18 months old, depending on breed), there is no reason why they cannot participate.
Care should be taken with brachiocephalic breeds such as Boxers and Boston Terriers. Some breeds are also simply less energetic and less likely to enjoy the sport. If you are unsure whether your dog is suitable, please do consult with your vet for advice.
You should start with only light training for a few months so that you don't overwork your dog – especially if they are still young, as his joints and bones will still be forming. For larger breeds, it is important to wait a bit longer to build up greater miles. Again, always consult your vet for advice.
What equipment do I need?
Equipment can be a little overwhelming. As with anything, what is right for some participants, doesn't quite suit others. Prices can also vary largely depending on make and quality.
Bear in mind that in addition to CaniCross equipment, you should invest in some key items for yourself too, including trail shoes for grip and lightweight sportswear. Layers and waterproofs may also come in handy, particularly in the winter months. You will also need the following essential CaniCross equipment;
Comfortable fitting harness. You should be able to fit two fingers around the neck, chest and waist.
A bungee lead/line. It is important to have a bungee integration in your line to absorb shock for both you and the dog. An ideal length is approx. 2m at full stretch.
A waist/hip belt for the runner. A waist belt should fit neatly around your waist. A hip belt should be secured with leg straps, this is advisable for faster runners and/or those with strong pulling dogs.
Getting started.
You should find an off-road location that ideally has a single trail track, with a clearly defined route for your dog. Look for local woodland or forestry trails and try to use routes that mix up hard and soft terrain underfoot – too much of either can cause problems. Also, be sure to avoid tarmac trails where possible as tarmac can cause issues with both human and canine joints, plus it can be tough on your dog's paws too. Gravel routes should also be limited due to causing discomfort.
Before you start it is important for you both to warm up. Walk your dog for ten minutes and provide them with some stretches (you may need treats to hand). If you can, try to play a little game of tug, as this provides a whole-body muscle warm-up. If you can lure them onto their hind legs, into a bow position, or into doing circles or figures of eight, you will ensure they have undertaken a good level of active stretching and muscle warm up.
The key to successful training is to start small and build on your CaniCross experience. Initially, you should begin with short interval runs (or jogs) of 50 – 100 metres. This will allow you both to adapt to the equipment and develop your skills of working together. Short runs will also help encourage your dog to lead in front and pull into the harness. Once your training is complete, free run your dog for the rest of your run (if you have any energy left) or walk them on their lead.
If your dog struggles to pull into the harness, try to encourage him to run ahead by rolling a ball out in front of you or having a friend run slightly ahead, encouraging them to pull. Be sure to praise both verbally and with the odd treat too. You may also want to develop a verbal cue, so they know what to do and when to pull.
Developing verbal cues.
A lot of canicrossers use mushers terms to help drive their dog, although you can use any term you wish, as long as your dog understands what you are asking of them. Start using these cues whilst out walking – when you need to turn left, use your cue as you approach the left turn and so on.
The terms most commonly used in CaniCross are…
Gee – right
Haw – left
On by – ignore keep going
Hike on – use more pulling power to carry forward
Let's go – speeding up or starting to go
Steady – slow the pace
Whooa – stop
Stand/line out – stand still facing forward
Remember to reward your dog with verbal praise and/or a treat when they respond to cues correctly.
Enjoy
So now you have the basics to get you started, the most important thing to remember is to enjoy this bonding time with your dog. Enjoy the views, enjoy feeling fitter and, when we are once again out of lockdown, enjoy the social aspect of the sport. Whether you choose to run recreationally or competitively, there are plenty of community groups that arrange local CaniCross meet-ups and/or races. Visit the Trailrunners website to find your local group.
After a CaniCross session, why not consider feeding your dog Alpha, the food of champions? Alpha Feeds has a range of nutritionally balanced dog food that will help to keep your dog fit and healthy throughout their CaniCross journey.